Yesterday was Dot Day.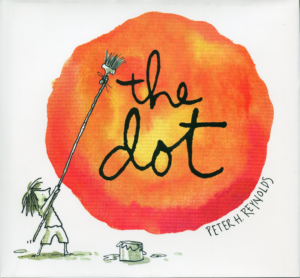 Dot Day is a celebration of creativity inspired by Peter H. Reynold's 2003 picture book, THE DOT.
Over the past year, I have included several lists of wonderful books, but I have not yet listed my very favorites – my top 10. When I do print that list, THE DOT will be right near the top.
In the book, an artistically challenged girl discovers that she is truly an artist at heart – all because of a clever teacher.
Her progression is true and steady, and her evolution brings the story full circle. I find it both satisfying and inspirational. Reynold's simple illustrations, compliment the book perfectly.
I am always working to improve my own illustration skills. Vashti, the main character, is a great example for me. She is constantly looking for ways to improve, ways to make a better dot. I find my own "dots" getting better and better. Each day I try something new, I make new discoveries.
Now if only I could reach Vashti's level of success in 32 short pages. Here's to turning another page!