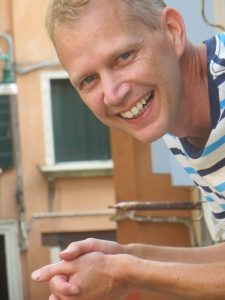 After ten years as an actor, then ten years as a teacher, I'm now in career number three, picture book author.
I have recently been published in the July/August issue of BabyBug Magazine. And a second story has just been acquired!
Picture books have had a great influence on my life. I was not that kid who was always reading. I was not that kid who was always writing.  I was not that kid who was always drawing. In fact, none of these things were of much interest to me until I reached adulthood. But the picture books I did encounter had an impact. Their images and stories stuck, flashing vividly in my head. New stories began to reveal themselves to me. New images floated through my head. These new stories and images were all my own.
Here are the ten greatest influences on my writing and how I see the world.
Animals
My heartbeats become quick and warm when I see them. Dogs, fruit bats, foxes, giraffes, monkeys and stegosauruses top my list. And bugs, bugs, bugs!
Birds
I can truly spend hours searching for and observing these wonders. Bird nerd – that's me.
Theatre
This was the world of one of my former lives. It thrills me to watch it. It empowers me to perform it. I was lucky enough to enjoy some time on Broadway in Baz Luhrmann's production of La Boheme.
Kindness
This is my person magnet. Kind people always rise to the top of my friend pile.
Ocean
I lived near it as a child. I studied it in college. I lived on it for three years as a singer on a cruise ship. It thrills me. It scares me. It hides so many treasures.
Ancient Ruins
As a child, I was intrigued and mystified by (obsessed with?) The Seven Wonders of the Ancient World. Today Machu Picchu, The Colosseum, The Pyramids, Teotihuacan, Angkor Wat, The Parthenon and The Great Wall call to me, "David, we're here. Come find us."
Food
I was the pickiest kid ever. Now I try to try everything and learn to cook it too. My weakness is frosting. Cover something in frosting, and I'll eat it.
Travel
More than 50 countries visited and counting. I'm a visual learner. I need to see the world to understand it.
Humor
What in life isn't made better with a good laugh (or frosting)? Funny people have a wonderful gift. I covet what they have. I long to be clever.
Art
I know I love a piece when I am jealous. There is tons of stuff I love, so I'm perpetually jealous. In the good way.